I HAVE MANY TYPES OF DIAMOND DOVES IN STOCK AND READY TO SELL.
The above picture is the common Diamond Dove.
These small doves are a very good starting point for
anyone looking to start a collection of doves. They
are also very pretty to look at too!!
I have quite a few breeding pairs of these in stock now.
I also have some for sell at this time.
$50.00 per pair. I also have extra males at this time for sell. $20.00 each.
This pretty fellow is one of my favorites!
This is the BLUE WHITE RUMP Diamond Dove.
They are very pretty and have alot of color to them.
I will have some for sell in 2004, so call ahead!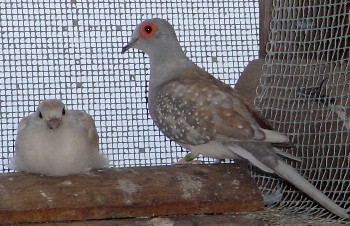 Here we have a beautiful site! A mother and her baby.
This is the Cinnamon Diamond Dove. You can
really see the rust colors on the mother. The baby is
just out of the nest and doing great! I will have these for
sell in 2004.
This is the Yellow Diamond Dove. You can see
the pretty gold tones across the wings and down
the back. We now have 2004 babies for sale!! Yes, they are ready to leave the farm @ $75.00 per pair.
I will only have a limited amount so call soon!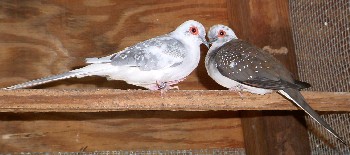 This pretty pair of Diamond Doves are a mutation called PIED. They have greyish patches blended with white patches. They are really are a beautiful breed of doves.
I will have these for sell in 2004.